Ceiling Fan Installation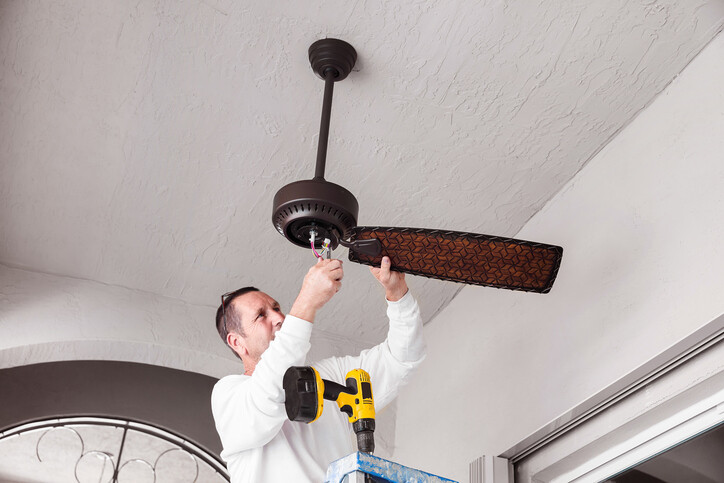 Installing a ceiling fan may seem like a straight forward task to accomplish as a homeowner, but in reality, installing a ceiling fan has been the very tipping point for many homeowners interested in DIY. In fact, ceiling fan installation is one of those underestimated home improvement challenges. If you're looking to cool down a certain room in your house, here are a few things to know before attempting your ceiling fan installation. Of course, for best results, call (614) 398-3377 and speak with an industry expert from PTI Electric & Lighting.
---
Call for a FREE Quote
---
★★★★★
"The crew showed up and installed six ceiling fans, three downstairs in two-story house and had no existing lights in two of the three. During walkthrough had them install new canned lighting which one was upgraded to newer LED lighting with dimmer. Job went well and would recommend and reuse for other services."
- Jeremy J.
Things to Know Before Ceiling Fan Installation
Read the directions. Every ceiling fan comes with a set of directions, and while many of us want to prove we can do things without any help, it's very important to read the directions first. Take some time to go through the installation from start to finish in the directions. If something doesn't make sense, you can either look for alternative differences or you can call in the help of PTI Electric & Lighting to do the job for you.
You may need help. Don't let the instructions fool you—chances are you're going to need some help while putting the new fan in. These products are very heavy and their awkward size can make it difficult to propel in the air while also messing around with the wiring. When it comes to actually putting the right ceiling fan in the right place and doing so without wasting time or money, then it makes sense for you to call in a professional like PTI Electric & Lighting for assistance.
Verify you have all the pieces. While many ceiling fan kits will already come equipped with everything you need, there are those that make all the pieces are parts an extra cost. Before you begin, take out all the pieces of the fan and lay them on the floor. With the pictures in front of you, look at the directions and see if you notice anything missing. If so, now is the time to contact the provider and let them know of their mistake. They'll likely send you the missing part, or you may be able to go to the store and purchase the item you need so you don't have to wait.
Ensure it's the right fit. Not all ceiling fans are created equal, so it's important for you to determine If the fan you bought will do the trick. For instance, a room that is small in size may not need such a large fan. In addition, you also want to look at the finishes. If all your finishes are oil rubbed bronze, then you should aim for an oil rubbed bronze ceiling fan too.
Get the wiring right. The most important step in installing a ceiling fan (other than being sure not to drop it on the dog), is to make sure you hook up the wiring correctly. If you do not have experience in working with electricity, you're best to call the experts at PTI Electric & Lighting to install the fan for you.
PTI Electric & Lighting has been in business since 2011, and we have the skill and experience needed to help you install your ceiling fan, quickly, efficiently and cost-effectively. Contact us today at (614) 398-3377 for your free consultation.
---
Call for Fast FREE Quote
---