Lighting Installation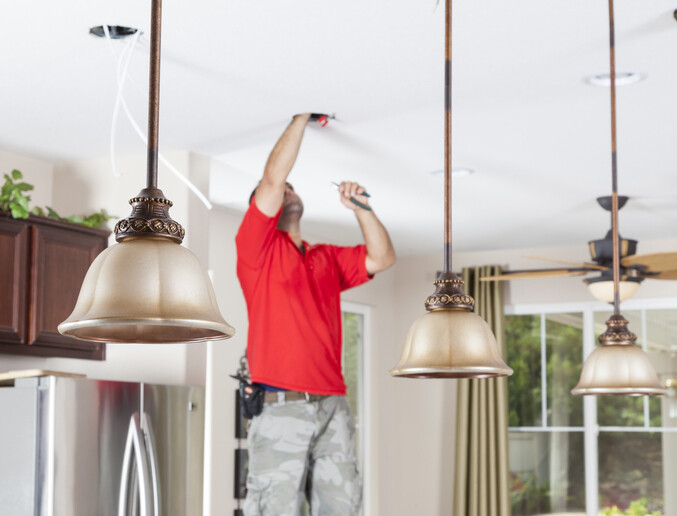 If you want to know about the dramatic impacts that proper lighting has on a room, just talk to any reputable interior decorator. Thoughtfully positioned lights show a space's architectural details to the best advantage. If you're creating a work space, you can reduce eyestrain and improve productivity by installing the right lights. After selecting the best lights for your home, we can help you to achieve the room that you desire by safely and correctly installing your lighting products. PTI Electric & Lighting is a local electrical contractor that has been brightening homes and businesses with all types of lights since 2011. Give us a call today at (614) 714-6627 to find out more about our services.
---
Call for a FREE Quote
---
★★★★★
"I highly recommend this company! On time, friendly, clean, professional, courteous, and fast! They definitely know what they're doing, and we are extremely happy with the exceptional value they provided... top notch!!!"
Charlie Long
Allow For Lights in the Kitchen Remodel Budget
When done right, kitchen remodels deliver satisfaction, improved functionality, and higher property values to homeowners. You risk minimizing the looks of your stunning granite countertops, stone tile floors, and wood cabinets, however, when lighting is overlooked. Whether you want under-cabinet lights to show off your special china or you need decorative, task lighting over a kitchen island, we can help. Our experienced electricians assess your room's electrical configuration and quickly position lights in places where you need them most.
Create a Focal Point With Accent Lighting
Accent lighting serves to set the mood and decorative tone for a space. When you've worked hard to find a special piece of art or a one-of-a-kind sofa for your room, why not make it the focal point of the space. With accent lighting, you can direct visitors' eyes to interesting furnishings and away from design flaws that you can't easily eliminate. Outdoor accent lights draw attention to your home's exterior architectural details and landscape features. PTI Electric & Lighting installs both indoor and outdoor accent lighting. Call us today at (614) 714-6627 for an installation quote.
Shed Light on Outdoor Night-Time Activities With Security Lights
While common robberies often occur during daylight hours when homeowners are at work, dangerous home invasions still happen mostly at night. Minimize the risk of harm to you and your family by placing security lights around your property. We've been deterring violent crimes through the installation of security lights for 12 years. When you want the peace of mind that manual flood lights or motion-sensing security lights bring, give us a call at (614) 714-6627 to schedule an installation appointment.
---
Call for Fast FREE Quote
---