Security Lighting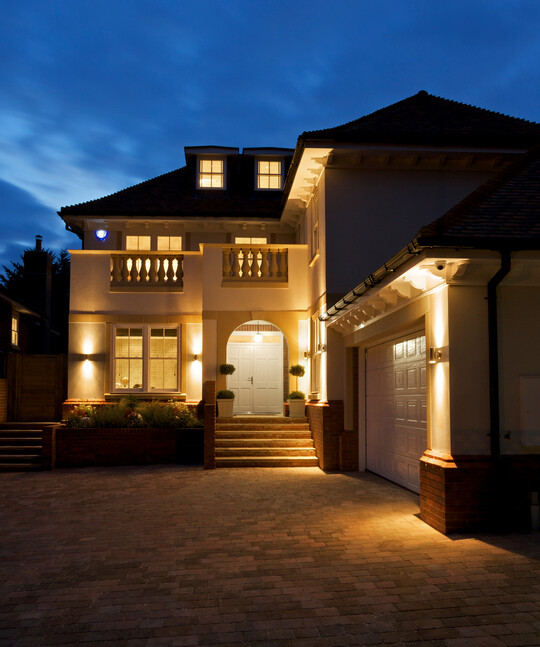 Security lighting is one of those things that you don't necessarily think about until something sparks an interest. For some people, it's just an added level of security that provides peace of mind, but for others, there are specific reasons that drive the desire for additional protection. PTI Electric & Lighting is a local electrician who specializes in design and installation of security lighting for homes and commercial buildings. For more information, or to schedule a free exterior lighting consultation, call (614) 398-3377.
---
Call for a FREE Quote
---
PTI Electric & Lighting's Security Lighting Services
If you currently do not have security lighting on your home, there are several benefits of adding lighting to consider. Many deem installation of security lighting to be a sound investment in your safety and security. If you decide to move forward, be sure to contact the experts at PTI Electric & Lighting to help.
Shine the Light on Suspicious Activity. If you have been hearing about recent strange activity taking place in your neighborhood, security lighting can be a way to keep your home from being a target. For instance, if you know that kids are going around ding-dong ditching homes, smashing mailboxes, or if you have heard about people stealing packages off your stoop, then having security lighting can be a way to deter these criminal activities from happening to your home.
Deter Break-ins. Nobody wants their home or car broken into, but if it's happening more and more in your neighborhood, security lighting can be a great deterrent. If you have recently had numerous break-ins throughout your area, whether in vehicles or in homes, it's time to start thinking about what security lighting can do to help. Whether you have them motion-activated on the outside or set on a timer, lights on in a home usually keep criminals at bay.
Protect Empty Buildings. Going on vacation can be a much needed way to reduce stress, but it can also put your home at risk of a potential break in or damages. If you are going on vacation soon, letting PTI Electric & Lighting install security lighting can make it seem as if someone is home even though they're not. This way, your home will no longer be a potential target for mischievous activity and you can enjoy your vacation without worrying about your home.
Gain Peace of Mind. Anxiety is something you try to curb, but there are certain instances that can make it seem out of control. For many anxious homeowners, security lights provide an added layer of protection and decrease anxiety by triggering you to be more alert only when necessary. For instance, if you have exterior motion sensors on your home and your lights go on, then you can be alerted to pay more attention to your surroundings. Maybe it was just a wild animal that set it off, but if you was suspicious activity, this alert can let you have enough time to notify first responders.
Choose PTI Electric & Lighting Today
If you're interested in learning more about what security lighting can do for your home, then be sure to contact the experts at PTI Electric & Lighting. We have been in business since 2011, and we have been helping people receive peace of mind. Contact us today at (614) 398-3377 to schedule your appointment and take advantage of our 12 years of experience.
---
Call for Fast FREE Quote
---